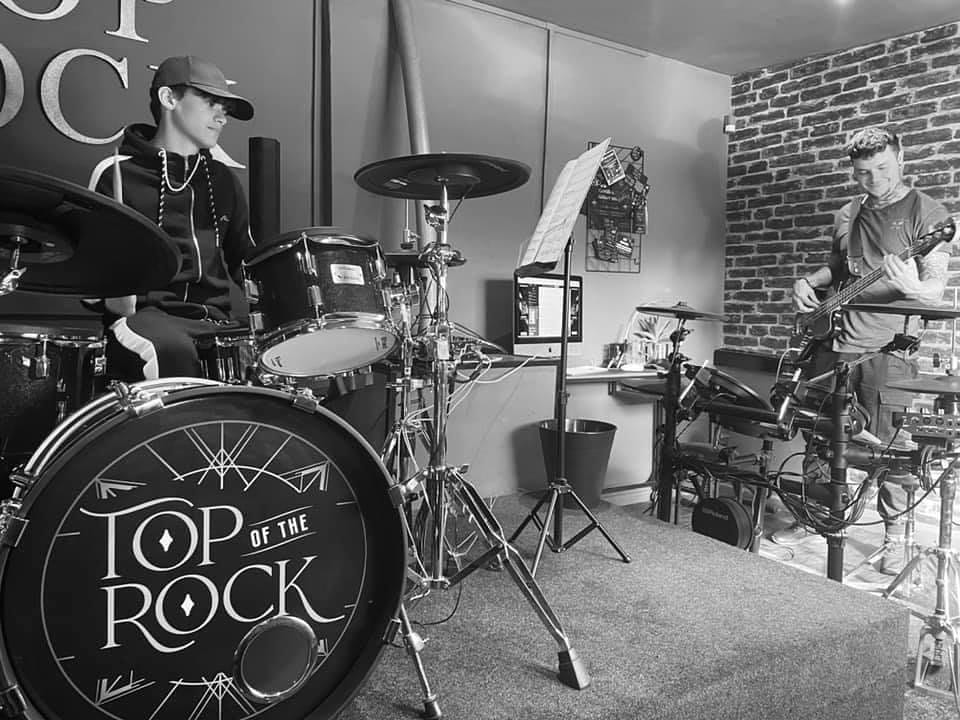 TOP 10 BENEFITS OF LEARNING THE DRUMS
The Best Drum Lessons Warwickshire Has To Offer
At Top of the Rock, we always push to encourage people to pick up a pair of drumsticks and join our musical family! However, it got us thinking… What are some of the benefits of learning drums?
Top 10 Reason
We have listed our top ten reasons why everyone should give it a go here:
1 – SELF EXPRESSION
Drumming helps us connect to our core, enhances our sense of empowerment and stimulates our creative expression
2 – KEEP'S YOU FIT AND HEALTHY
Nothing gets that adrenaline pumping quite like playing a drum kit! The constant motion of arms and legs is a great way to get moving, and a drum student burns an average of 270.4 calories in 30 minutes just by playing the drumkit!
3 – SOCIALISING
A hobby like drumming is a great way to meet new and like minded individuals who share the same passion as you, so you'll always have lots to chat about.
4 – BEING PRESENT
Having to focus on playing the drums teaches the discipline to be 'in the moment' and to stay focused on a particular beat/song. The practise of being present is underrated, but an incredibly useful transferable skill.
5 – MOTOR SKILL DEVELOPMENT
Playing the drums requires a synchronicity between the brain and the body's muscular coordination. This comes in very useful for everyday tasks, increases reaction time and dexterity and improves that person's ability with hand-based tasks such as writing, boxing, piano and of course… DRUMMING.
6 – STRESS REDUCTION
One of the most common reason's people take up the drums is of course to reduce stress. Having a creative and physical outlet allows a person to channel their emotions, and a kit can often act as a 'stress ball' where by the physical act of hitting the kit helps to release negative emotions.
7 – BOOSTS BRAIN POWER
When you play the drumkit, you coordinate all four limbs to work together at the same time requiring you to use both sides of your brain simultaneously. This type of brain activity can improve an individual's IQ level.
8 – THERAPY
Many people take up the drums as a form of therapy and it is easy to see why. Drumming has a positive effect on anxiety, grief, fatigue, depression and behavioural issues. Drumming can strengthen your ability to focus and work on impulse control and decision-making skills.
9 – LIFELONG LEARNING
Drum's is a skill that you can learn at any age. Once you have picked up the sticks, it is a skill you can continue to grow and develop throughout your whole life.
10 – CONFIDENCE
Last but certainly not least, drumming helps to boost your confidence and can give you the ability to feel a part of a musical community, who value each other's hard work and talents.
Contact Us
So there you have it, ten solid reasons why Drumming is good for you. If you would like to join our Top of The rock family and take advantage of the benefits above as well so so many more then please don't hesitate to get in touch and start your journey today! Take a look at our full video below to get a feel for our culture.